About HMC: Fast Facts
Character
Harvey Mudd College is a private, co-educational, non-sectarian, undergraduate only, engineering, science and mathematics college. HMC is a member of the Claremont University Consortium, a cluster of autonomous undergraduate and graduate institutions comprised of Claremont McKenna College, Pitzer College, Pomona College, Scripps College, Claremont Graduate University and Keck Graduate Institute for Applied Life Sciences.
Mission Statement
Harvey Mudd College seeks to educate engineers, scientists, and mathematicians, well versed in all of these areas and in the humanities and the social sciences so that they may assume leadership in their fields with a clear understanding of the impact of their work on society.
Bragging points...
The Princeton Review at one point (12/28/2016 @ 17:42PST) said these things about HMC: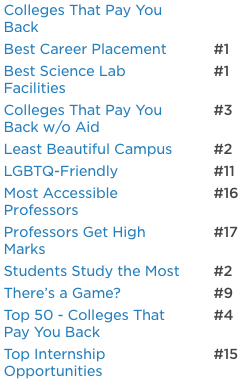 We presume that by "least" beautiful, the Princetonians meant most beautiful in the graphic above. (By the way, the University of Dallas agrees with us on this!)
Harvey Mudd College was named one of 25 elite "New Ivies," according to a Kaplan/Newsweek "How to Get into College Guide." Along with Pomona College, also a member of the Claremont Colleges Consortium, HMC and the "New Ivies" were featured in a segment of NBC's Today Show. That said, we lament the passing of the old ivies.
Location
In the city of Claremont—a suburban community 35 miles east of Los Angeles featuring sidewalk cafes, specialty shops, espresso bars, tree-lined streets, Victorian Homes and a population of 37,000. HMC is conveniently located 25 minutes from the nearest ski slope, 40 minutes from downtown Los Angeles, 45 minutes from the desert and less than an hour away from the Pacific beaches.
Research
A broad range of opportunities is available for undergraduate research in the sciences--often conducted by professors in the various departments--and all students carry out research for at least one year.
Clinic
The Harvey Mudd College Clinic Program engages teams of juniors, seniors and faculty members in the solving of real world, technical problems for approximately 40 "Blue Chip" companies and a number of government agencies.
For More Information
All of the above information was shamelessly stolen from the fast facts area of the "About HMC" section of the main college website. Check it out for even more information about the college.