Project #2: Inverted Pendulum Robot
Matt Ferlo and Jordan Taggart
Introduction
Using the Evolution platform, we will make a robot capable of balancing an inverted pendulum. The pendulum will be constrained to rotate only about one axis. The Evolution's vision system will be used to track the pendulum, which will probably be painted an easily-distinguished color (much the same way that [Vaughan]'s sheep dog was distinctively painted).
Theory
There are two forces acting on the standing rod: gravity and the motion of the cart. This analysis assumes the "pendulum" is actually a rod with equal mass all along its length.
Gravity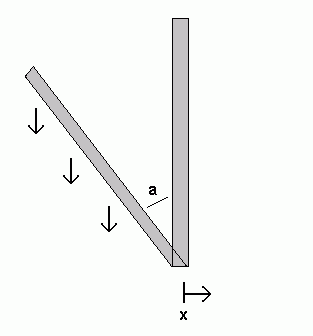 Gravity acts all along the length of the beam, providing an equal force all along the beam.
F = ρ*L*g
where ρ is the linear density of the beam (mass per distance), L is the length of the beam, g is the acceleration of gravity, and a is the angle deviation from vertical.
This force provides a torque (T = Fperp*L where Fperp is the component of the force perpendicular to the beam, Fperp = F*sin(a)).
Tgravity = 0.5*ρ*L2*g*sin(a)
Cart Motion