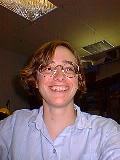 Margaret M. Fleck: Medical Publications
I have recently assisted researchers in ophthalmology to develop algorithms for analyzing patterns of blood vessels in tumors of the eye.
J. Pe'er, M. G. Mehaffey M. G., M. Fleck, M. Meyer, S. E. Bentler, R. Woolson, R. Folberg (1996) ``Significance of quantifying and localizing vasuclar networks in choroidal and ciliary body melanomas,'' Suppl Invest Ophthalmol Vis Sci 37: S207.
Folberg, Robert, Margaret Fleck, Mary G. Mehaffey, Margaret Meyer, Suzanne Bentler, Robert Woolson, Jacob Pe'er, (1996) Mapping the Location of Prognostically Significant Vascular Patterns in Ciliary Body and Choroidal Melanomas, Pathology Oncology Research 2/4, pp. 229--236.
---
---
This page is maintained by Margaret Fleck.