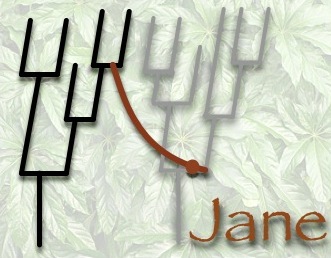 Sample Trees
We provide several sample trees from the literature, each in Tarzan's .tree format.


Pocket Gophers and Chewing Lice from Hafner MS and Nadler SA, Phylogenetic trees support the coevolution of parasites and their hosts. Nature 1988, 332:258-259
Seabirds and Lice from Paterson AM, Wallis GP, Wallis LJ, Gray RD, Seabird louse coevolution: complex histories revealed by 12S rRNA sequences and reconciliation analyses. Systematic Biology 2000, 49, 383-399.
Ficus and Ceratosolen from Weiblen GD and Bush GW, Speciation in fig pollinators and parasites. Molecular Ecology 2002, 11, 1573-1578.
Back to Jane homepage