Interests
I am a computer geek. Hear my squeek. I love them. I became obsessed with computers when I started programming them in 3rd grade and it hasn't stopped. Since my early obsession with computers, I have diversified into philosophy, digital art, eastern religion, and creative writing (although I admittedly spend less time in these pursuits then I used to...) I am primarily interested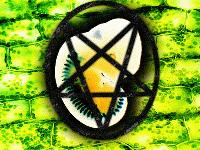 in digital art. I have published a gallery of my work here. Don't worry -- I'm keeping my day job. I also love the work of Salvador Dali and H.R. Giger. Some of my favorite authors include the debauched Tom Robbins, Issaic Asimov, Frank Herbert, Robert Heinlein, and William Gibson.

In addition to these more cerebral pleasures, I enjoy debauchery and enjoy frequenting trance/house and industrial/goth clubs such as Spundae, Giant, Basic, Mor, and Dunegon. I also enjoy rock climbing, snow boarding (hint: don't land on your collarbone after jumping), and working out at the gym.

Just in case you started to forget that I am a computer nerd, I pretty much spend most of my life camped out in front of my computer. Whether its hacking my Xbox/Tivo or working on my Linux or Windows servers, I always have a few "geek" projects going on. A few years ago, I was rather active in the war against junk email.

I have been acquired by a cute cat (self-cleaning model) whom I have dubbed Jezebel. The name suits her. 'nuff said.