If this page looks abnormally plain, you should consider upgrading to a standards-compliant browser.
Links to other sections of this site appear at the bottom of the page.
Contact Information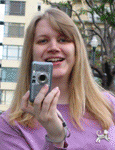 Melissa O'Neill
Associate Professor
Computer Science Department
Harvey Mudd College
Olin Science Center
1250 North Dartmouth Avenue
Claremont, CA 91711-5980
United States of America
Olin 1243
Telephone: (909) 607-9661
FAX: (909) 607-8364
E-Mail (preferred): oneill@cs.hmc.edu
Note: I haven't updated this site in a couple of years now. It's on my TODO list, but the information here is a little stale.
Research
I am particularly interested in topics in the systems area of computer science, specifically parallel and distributed systems and programming languages. My research focuses on techniques to make programming easier and more reliable, although sometimes I have obtained results in areas tangential to my main interests.
Check out my research page for more details.
Teaching
The courses I teach include
Programming Languages (CS 131)
Operating Systems (CS 182)
User Interface Design (CS 121)
Data Structures & Program Development (CS 70)
This fall, I'll be teaching two sections of Data Structures & Program Development (CS 70). Check out my teaching page for more details.