AAAI 2006 Scavenger Hunt Event
Paul Oh
Drexel University
paul@coe.drexel.edu

Zachary Dodds
Harvey Mudd College
dodds@cs.hmc.edu



What's New
6/15/06 The Scavenger Hunt Schedule has been posted. So have a draft of the Judging Guidelines.

6/1/2006 We thank K-Team and Road Narrows Robotics for donating a Korebot Light Linux SBC robotics board to the scavenger hunt event, to be awarded to the overall first-pace team.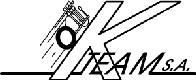 Overview
In this year's scavenger hunt robot competition, entries will reason about and navigate the conference's foyer, hallways, and rooms. We welcome entries from any subfield of AI with a spatial reasoning component. Systems incorporating spatial-reasoning techniques from disparate subfields, e.g., natural language processing, human-robot interaction, multiagent cooperation, and/or sliding-scale autonomy are encouraged, as are more traditional entries focusing on navigation and mapping.

The competition will consist of two phases: a demonstration created primarily by each participating team and a challenge directed by the contest judges.

The demonstration phase

In the demonstration, participants will show off their system's abilities within the conference environment. For example, a particpant might wish to demonstrate the ability of a robot to follow a trail of colored paper in the conference hall, receive a designated visual cue, and then head to an "X" marking the spot of their treasure. Another entry might create a spatiotemporal map of the people around it and their interactions. This might be accomplished through sensor observations or by interacting with passersby. During this demonstration phase, particpants largely set their own goals and exhibit what their system is capable of. This phase of the competition is especially friendly to other robotic contest entries, educational projects, and systems that take novel AI approaches to environmental reasoning.

The challenge phase

In the predetermined challenge, robots will have to identify the location of a number of objects chosen by the judges ("the hunt"). These objects will be selected to respect the primary sensing modalities of each entrant: generality is an objective, but not the only one. Examples of some of the possible objects appear below. This task requires robots to explore a dynamic area, including moving objects/people, in order to acquire objects to satisfy the checklist.

In addition to this scavenger hunt challenge, judges may ask participants to vary the operating conditions from their demonstration phase in order to explore the limits of their system's capabilities.

Each contestant will be given a list of items to find. In order to be as concrete as possible, these items will be chosen from the page linked FROM THIS SCAVENGER HUNT ITEM PAGE - all are available at very low cost from Wal-Mart or other similar places.
System-specific Accommodations Welcome
To encourage all kinds of entries, participants may substitute the above items with others, if the sensor suite of their robotic system requires it. Accommodations will be worked out on an individual basis - teams are welcome to bring their own "objects" to find during the challenge phase in any case. In general, system-specific alterations to accentuate the capabilities (and downplay limitations) of each entry are welcome.
For example, an entry with range sensors but without a camera might substitute distinguishable architectural features, such as a particular corridor or niche, for the above items. A system using audio input might seek out the source of a particular voice or recording being played. Systems whose focus is human interaction might seek out a particular individual or, more generally, a person exhibiting a specified behavior.
Regardless of approach, robots should report the location of the scavenger hunt items they find. This report may be in the form of a natural language utterance, a map of the environment showing the location of items, or if the item can be manipulated, by picking up the object and returning it to the starting point.
Contestants may enter a team of robots and will be more favorably judged if they demonstrate some form of cooperation.
Scoring
We recognize that direct comparison of potentially very different entries is not easy. However, the judges will base their fundamental assessments on the extent and success of the spatial reasoning that each system demonstrates, given the naturalness and perceived difficulties of its operating conditions. Minimum requirements are a mobile robot.
Each judge on the panel will give a subjective score between 1 and 10 for each entry. Their scores will be averaged to produce a final score. The following criteria will be used as a guide for the judges' considerations.
Autonomy and shared autonomy We welcome a variety of teams to enter with one or more robots and/or human operators, though every entrant must demonstrate AI techniques during the competition. In particular, we encourage urban search and rescue teams with AI components to consider joining this event. Approaches resulting in systems with shared autonomy or full autonomy will be considered on equal footing. In shared-autonomy systems, judges will consider the naturalness of both the interface and the delegation of tasks to the robotic system and its human assistants. In fully autonomous systems, the extent of that autonomy will be evaluated.


Environmental modification Ideally, an entry would interact with the conference environment without modification, or by modifying the environment itself. By default, the staging area for the scavenger hunt will be a foyer of the conference venue, along with its accompanying hallways and rooms. The environment will not be engineered for the event, except that the density of people will be relatively low, so that crowding around a robot will not be allowed. Participants are also welcome to demonstrate capabilities under restricted conditions. In such cases the nature and extent of the restrictions should be well understood and conveyed to the judges.


Unexpected, dynamic, and/or human interactions A key aspect of the scavenger hunt competition is having robots interact with people present in the environment. This category will assess systems' ability to handle unmodeled activity or changes in the environment. Robustness to such phonomena is a hallmark of intelligent spatial reasoning. As with the other judging criteria, participants may request onlookers and judges to keep to specific types of interactions. Robotic systems which make such requests for themselves will be judged even more favorably.


Accuracy In order to convey its reasoning about the environment, each scavenger hunt entry should create and convey one or more representations of its surroundings. Many such "maps" are possible, e.g., traditional dense maps, sparse, loosely-connected collections of landmark locations, networks of learned parameters, or other summaries of the systems' spatial input data. Novel representations or approaches integrating diverse facets of AI are welcome. Judges will consider both the accuracy and utility of these representations in the demonstration and challenge phases of the competition.


Range and completeness Judges will assess the subset of the conference environment which each system can cope with, especially in light of the particular sensors available to each entry. For example, a system equipped with a laser range finder would be expected to reason about a larger swath of area than one with only a set of IR sensors. "Completeness" considerations include the variety of sensory modalities supported and their extent. For example, can a system locate objects not on the floor? Can a system distinguish objects using visual, auditory, direct range-sensing, or other means?


Speed is desirable, but it is not as important as a system's ability to interact with and reason about the (relatively) unmodified conference environment.
The contestants will be evaluated on overall success as well as on any particular abilities they incorporate into their solutions, such as:
Technical Innovation
Novel spatial-reasoning approaches
Mapping and navigation strategy
Object Recognition
Object Manipulation
Multi-Agent Cooperation
Environment Details
Linked here is a pdf showing the atrium area of the conference venue - this is where the robot competition and exhibition will be held, including the scavenger hunt.
atriumLayout.pdf

Prizes
A overall first place will be determined. Additional places and prizes for innovative aspects of specific solutions may also be awarded.
---