Pomona Unified MyCS Workshop (July 20-24, 2015)
Welcome! We look forward to working with you to
(1) better understand what teachers need to teach computing and
(2) to share our Middle-years CS curriculum, MyCS!
All workshop links: are available from this Google doc
Returners' track Building from last summer's pilot, this summer will again have a parallel workshop track for returning teachers, with two four-day curricula:
- each morning they'll work with hardware and the Arduino, and
- each afternoon will present some of Python programming.
MyCS track
Each day includes a hands-on introduction to a part of the MyCS curriculum.
The field trip to Google Irvine on Friday is optional, but recommended!



Location and Parking We meet in the Shanahan building of Harvey Mudd's Compus, room B460. For Googling, its official address is 320 E Foothill Blvd, Claremont, CA 91711. We will also have people helping direct everyone the first morning: if you're near the HMC Starbucks, you're in the right place!
Parking is available along Foothill north of the campus and along Platt Blvd./12th St. and Dartmouth Ave. south of the campus.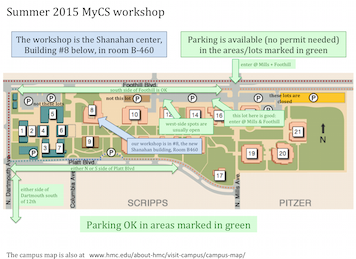 This link shows the Shanahan building and parking options.
MyCS Curriculum ... is available from the curriculum tab
Workshop Overview
Week-long professional development workshops with the MyCS curriculum occur each summer in Claremont, CA and selected other locations. Each workshop, open to groups of 10-30 teachers, provides an overview of the curriculum along with in-depth practice with lesson plans from all of MyCS's units. Time is divided between discussions, hands-on activities, and opportunities to practice coding with Scratch, the programming language used most prominently in our curriculum.
These workshops have, at their heart, the same goals as the curriculum itself:
To increase the CS content and skills available to middle-years (middle-school and early high-school) students and teachers

To provide content that make both the student and teacher experience of CS as empowering as possible.
To complement whatever pedagogical approach and personal-interaction style a teacher chooses to use.

To deepen students' and teachers' identification with CS and sophistication with the discipline.

To contribute as wide a variety of hands-on projects as possible, in order to "hook" as diverse a group of students and teachers as possible.
To build context not only from current technologies, e.g., programming languages and consumer software, but from the fundamentals of the discipline, i.e., organizing data, algorithmic reasoning, and procedural composition.
The workshop is updated yearly to include curriculum revisions, as well as additional activities and topics to explore for our returning teachers.
All of the materials for previous versions of the workshop are available online for you to explore below.
2015's Waimea workshop 2014's PUSD workshop 2013's workshop 2012's workshop